Data Collection & Entry
Intelliteams has experienced and well trained staff to cater diverse data processing and collection needs of our clients. We give online and offline data entry services 24/7 to our clients in different parts of the World. Moreover, we give best quality in low cost.
Because of rapid development of effective and efficient data collection systems and competitive processes being introduced in all streams of business arena; one stays ahead of competition and grabs customer's attention.  Intelliteams stays competitive by providing cutting edge data entry and collection services to its clients where clients' requirements are mapped properly and best solutions are offered.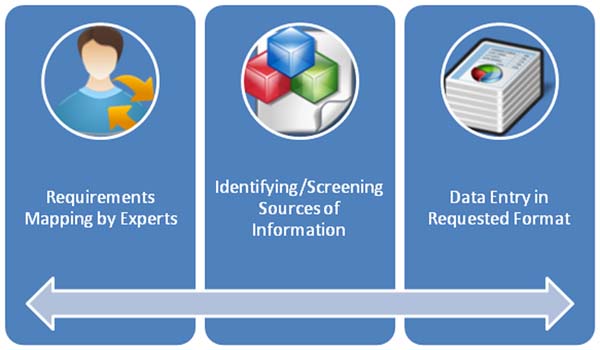 - 24/7 data entry services
- Free Project manager to oversee your project's progress and keep track of all deadlines and milestones for you.
- Extensive experience in identifying and screening of sources of data.
- Best offline and online data entry services.
- Continuous communication with the experts to keep track of changing needs.
- Documented tracking of progress and updates via email.
- No need to communicate with huge data team; just talk to the Project Manager and you will be sorted !
We do not believe in stagnant processes. Intelliteams strives to constantly look out for ways that can improve current methods and systems for better and targeted data collection and entry services. Our clients get best results on time with no errors.
Contact Us today to get a plan for your data needs and forget all the hassles. We are here to help you with your back office tasks that lets you concentrate more on strategic planning of your business.
Sample Rates – Fixed Project Size
Size of Project
(No. of Records)
No .of Resources
Project Manager
(Free of Cost, $0)
Duration
(Total Hrs/Working Days)
Cost Per Hour
Total Cost
200000
20
1
1200 hrs/150 days
$15
$18000
50000
10
1
560 hrs/70 days
$15
$8400
100000
12
1
880 hrs/110 days
$15
$13200
150000
15
1
1040 hrs/130 days
$15
$15600